Manage Your
Entire
Content Creation Process in Notion.

Creator's Companion turns Notion into your central tool for creating YouTube videos, blog posts, podcast episodes, and more.
"We use Creator's Companion on our channels and it's been massively helpful. We wouldn't be able to organize the information we have for our videos without it."
Stop Juggling Tools. Start Working Faster.
Tired of shoving ideas in Evernote, managing projects in Todoist, and tracking completed projects in Google Sheets? Yeah, me too.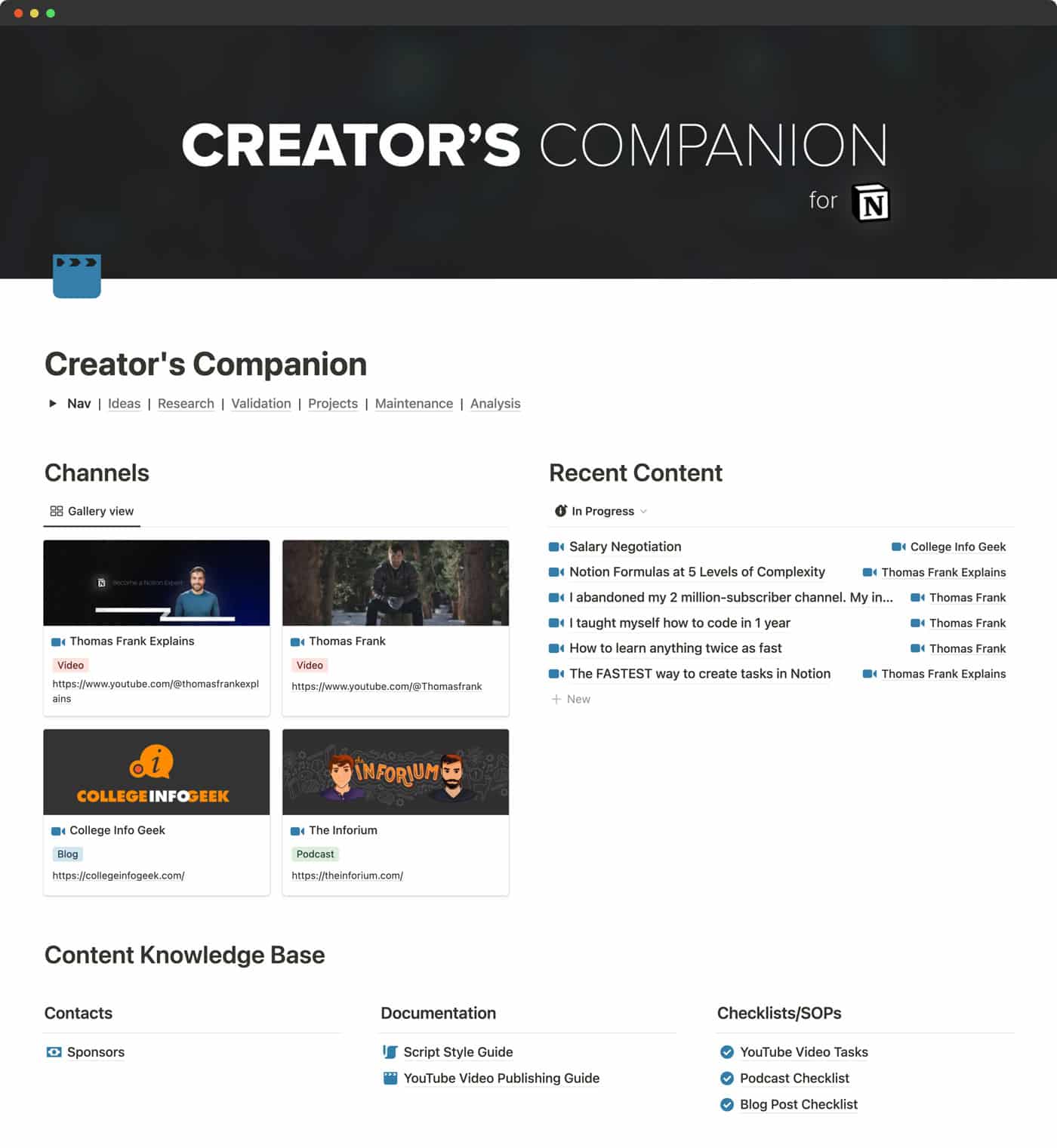 No more jumping between different tools for writing scripts, collecting ideas, and managing tasks.  Creator's Companion is an advanced, expansive template that turns Notion into a truly all-in-one tool for managing your content creation process.
Capture ideas and prioritize the best ones, plan your editorial calendar, collect research, write scripts, analyze content performance, and even manage your brand deals from one place.
Plus, with optional integration with the Ultimate Brain template, you get a full-fledged task & project manager built into every content project.
When your whole process happens in Notion, you work faster as a result.
This is the Tool I Use Myself.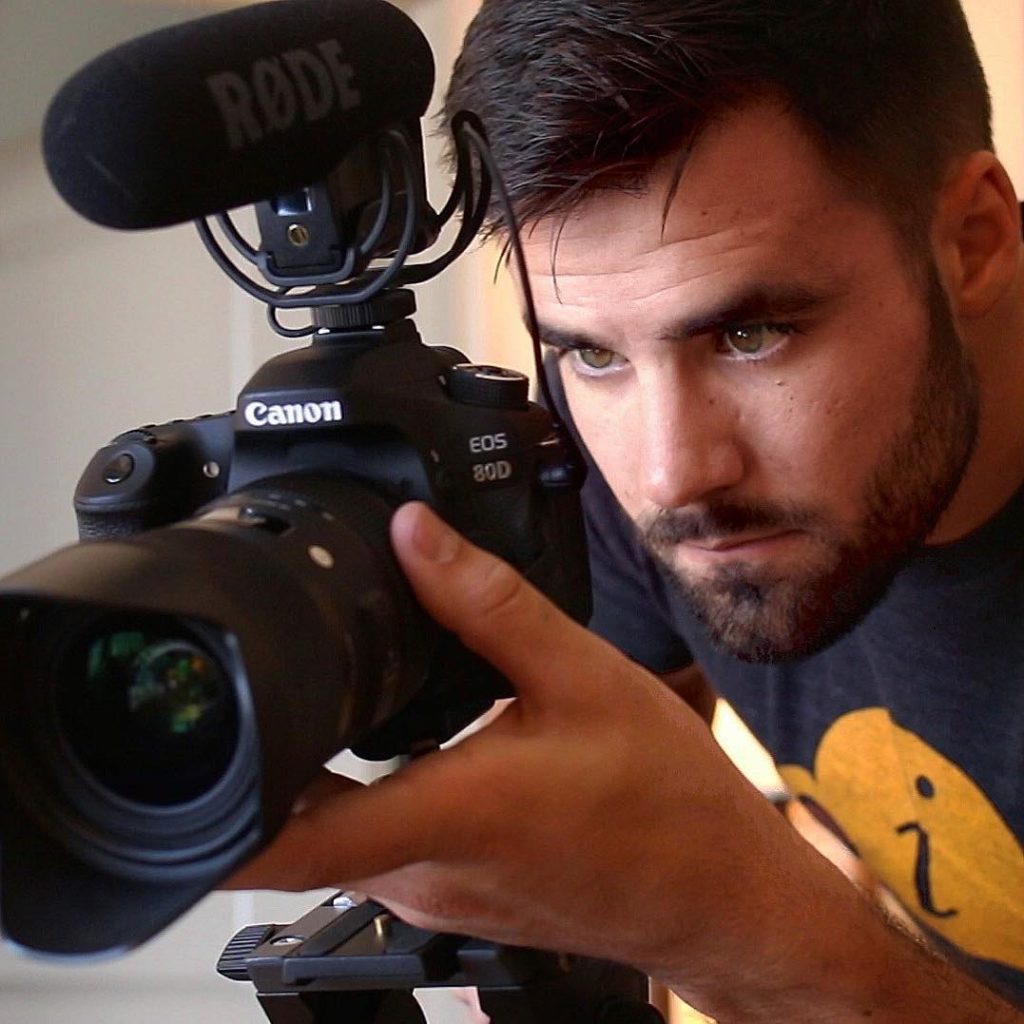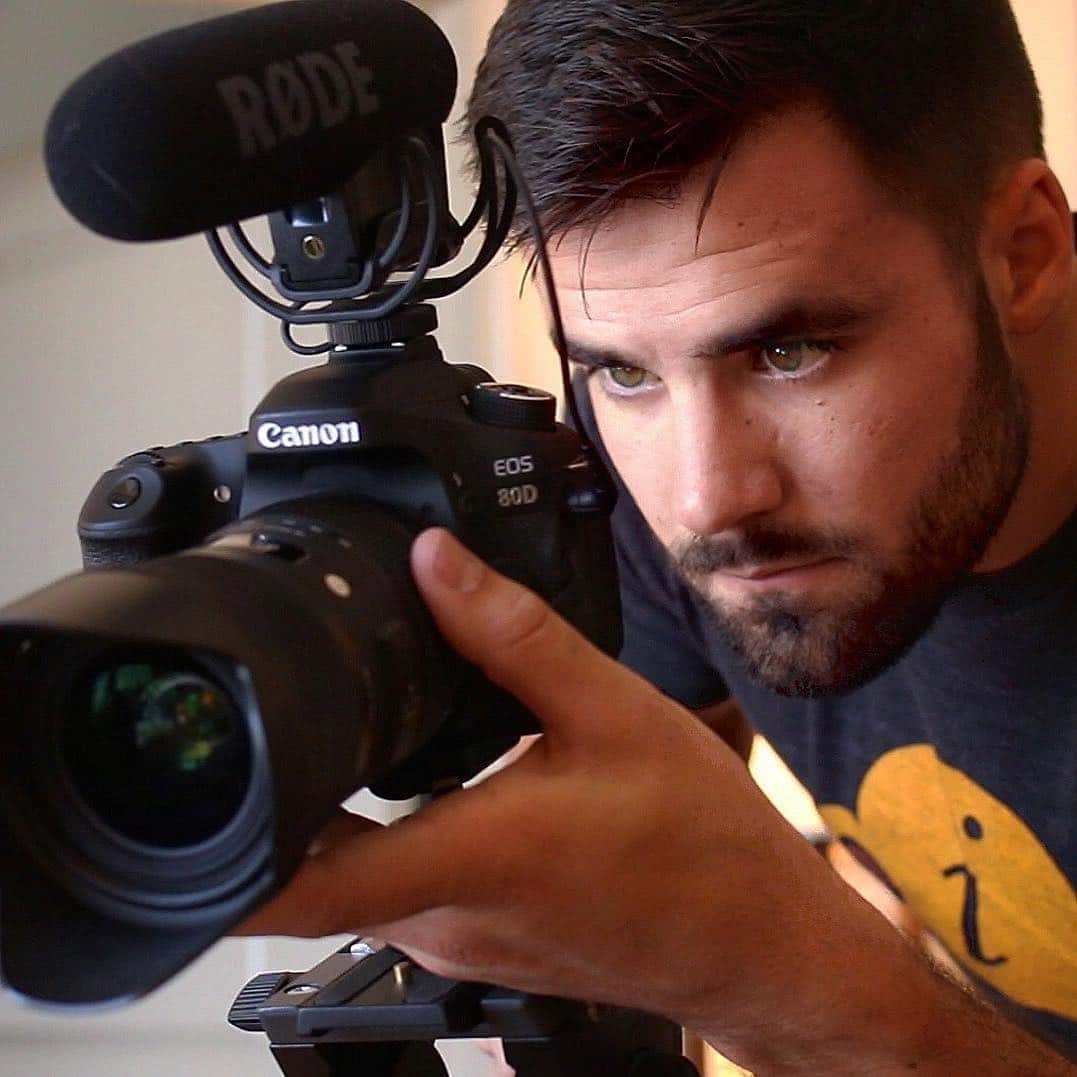 Hi, I'm Thomas Frank, and I've been a full-time YouTuber, podcaster, and blogger for more than 10 years.
Together with my team, I've built a YouTube channel with over 2.9 million subscribers and 175 million views, a blog with 600k monthly visitors, and a long-running podcast.
In 2018, I stumbled across Notion after spending years juggling multiple apps to manage our content process.
Over time, we started using Notion for more and more – replacing other note-taking apps, task managers, and spreadsheets we used in the past. Today, we use Notion for the entire content creation process across 5 active web properties.
Creator's Companion is the exact system my team and I use to manage all of our channels today. It's the product of over three years of real-world use and testing.
"The Creator's Companion has been such a lifesaver for me! I used to have lots of lists, spreadsheets and notes filled with content ideas to unpack. Now it's centralized, organized, and manageable thanks in large part with the help of this fantastic tool and Thomas' guidance on how to use it."
Go from Idea to "Published".
Creator's Companion helps you improve the speed and efficiency of your content creation process.
You'll find features and views that aid in idea capture, SEO, research & scripting, editing, publishing, and more.
The three keys to crafting a successful video are title, thumbnail, and topic.
The best-performing creators validate their ideas in each of these areas before investing time into them.
Less successful creators don't do this, and they waste time on ideas that are fated to perform poorly.
Validation view helps you figure out which ideas are worth the investment of your time and effort.
Need to reference an old script? Want to see every video sponsored by a certain brand? Trying to remember when you took a certain piece of b-roll?
Other project management apps don't do a good job at turning your finished projects into a library.
Notion excels at that job, and Creator's Companion uses to Notion to add your finished projects to a useful archive.
"Your templates and channel are so immeasurably helpful! Especially for someone like me who recently found out I have ADHD and am trying to learn better skills to organize my life. Thanks for all your work and for sharing all your knowledge!"
Keep track of your sponsors. Track SEO keywords. Create checklist templates. See posts that need to be updated. And lots more...
Tasks, Sub-Tasks, and Projects
Want to integrate your task management directly into your content planning?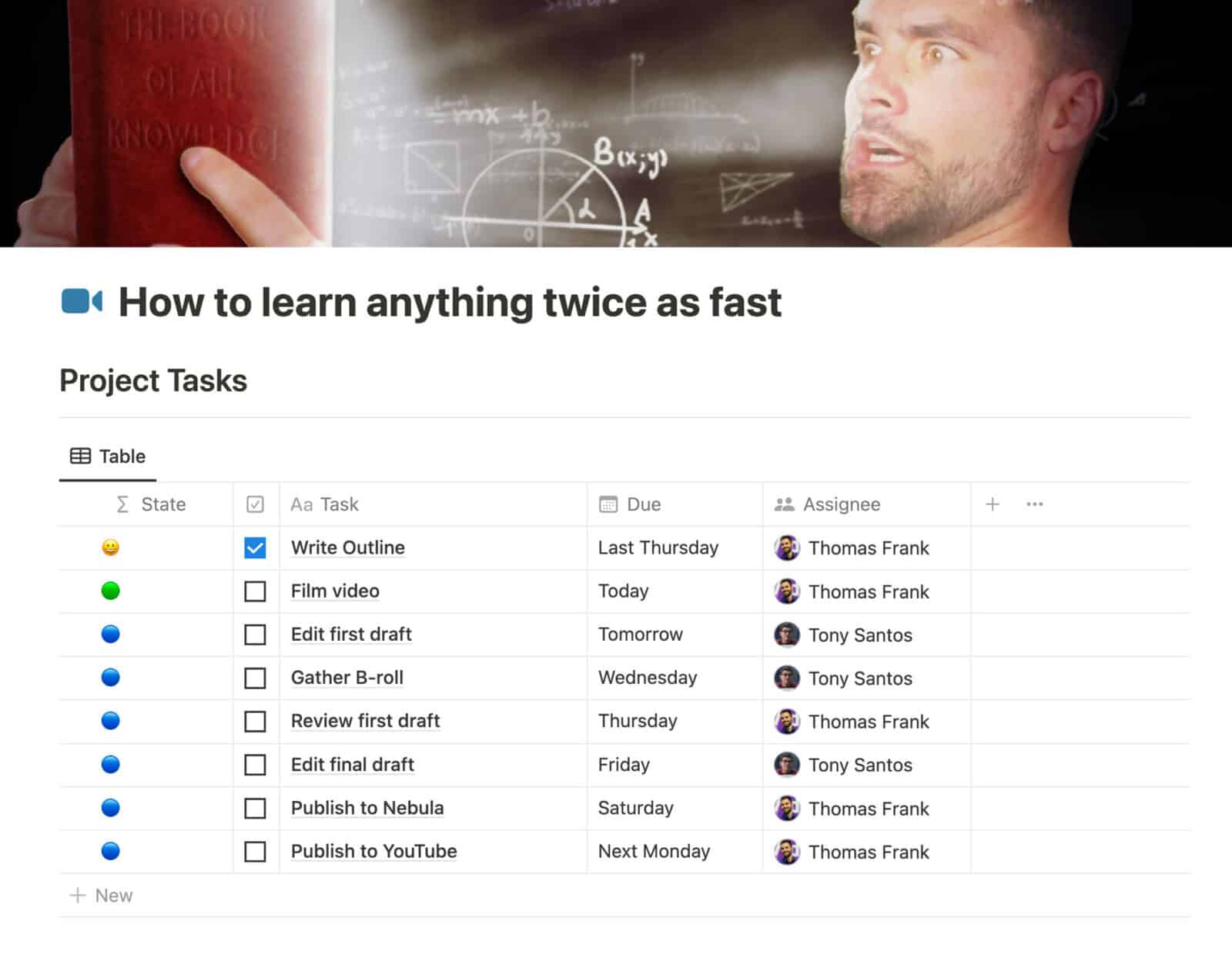 The upgraded Tasks & Projects version of Creator's Companion fully integrates my Ultimate Tasks template. Every video, podcast, or blog post project gets a task view where you can add task (and sub-tasks).
These tasks will show up in your Inbox, Today, Next 7 Days, and other smart views. 
Put simply, if you'd like to add tasks directly to content projects AND see them amongst all your other tasks, you'll either want this version or the Ultimate Brain version! (see more about that below)
"I just dove deep into the Creator's Companion over the past few days, moving over projects and tasks, and it's friggin' epic. There's a place for everything. THANK YOU."
🧠 Second Brain Integration
Want to tie your content planning into your second brain?
The Ultimate Brain edition of Creator's Companion comes bundled with the popular Ultimate Brain template – my all-in-one second brain system for Notion.
Ultimate Brain lets you seamlessly manage tasks, notes, projects, and goals in Notion – and includes both GTD® lists and P.A.R.A. organization, a la Tiago Forte's Building a Second Brain.
The bundle comes with a fully integrated version of both of both templates – meaning you'll see all the notes and tasks you add to your content projects inside Ultimate Brain's dedicated Note and Task dashboards.
Check out the video to learn more!
"If you use Notion as your Second Brain, this is the ultimate template and guide to implement my PARA system. No one better to learn from than Thomas."
It's dangerous to go alone! Fortunately, you won't have to.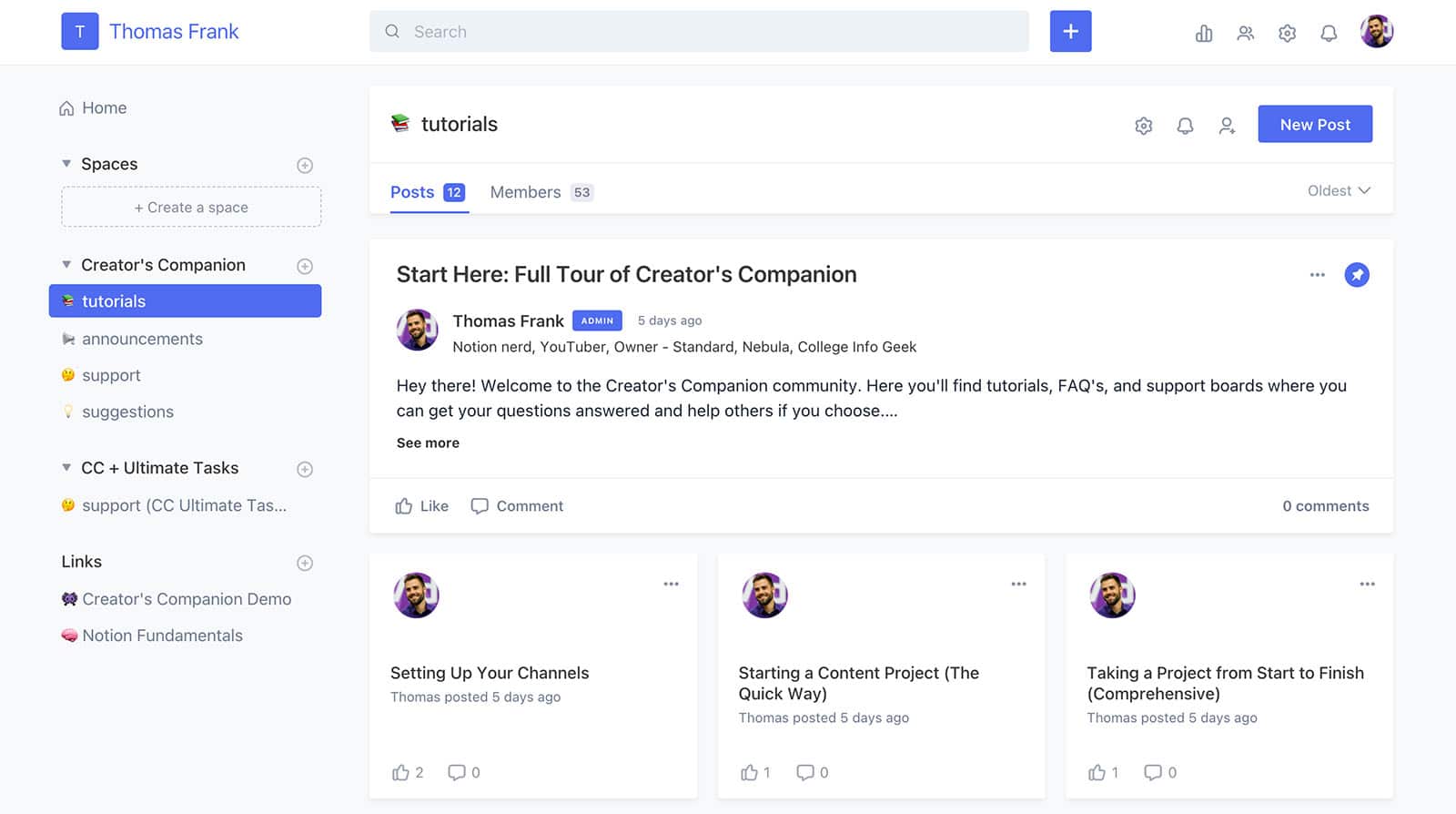 Creator's Companion includes exclusive access to a private support community on Circle.
In the Tutorials section, you'll find a full quick-start guide with videos showing you exactly how to set up your channels, capture ideas, and start producing content.
You'll also find in-depth reference videos explaining every part of the template. I'm not marketing it as a Notion course, but it might as well be.
You can also get answers to your questions in our Support section, add suggestions for improvements, and swap ideas with fellow creators.
"As a musician, there are so many different projects and deadlines that I'm dealing with. Creator's Companion takes a lot of guesswork out of how to plan for the release of a video, a piece of music, or any other kind of content."
This is a sales page, not an ice cream shop – but you've still got flavors to choose from.
Base includes all the core views and features. Manage as many YouTube channels, podcasts, blogs, and social profiles as you need. 
Ultimate Tasks Edition includes everything from Base and also integrates my Ultimate Tasks template (used by more than 10,000 people!) directly into Creator's Companion.
Ultimate Brain Edition is truly the ultimate version of the template. It comes bundled with my complete second-brain template for Notion, and the two are deeply integrated.
Grab the Ultimate Brain Edition to get a $49 bundle discount!
Base
All Creator's Companion features

Tutorials and Documentation

Access to an exclusive community where you can get support and exchange tips with other creators

30-day money-back guarantee
Ultimate Tasks
Edition
Add tasks and sub-tasks to any project

See all current tasks in Project Manager view

Tutorials and Documentation

Access to an exclusive community where you can get support and exchange tips with other creators

30-day money-back guarantee
Ultimate Brain
Edition🧠
$
229
Best Value - $49 bundle discount
All Base + Ultimate Tasks features

Deep integration with the Ultimate Brain template - a full second brain for Notion

Add tasks, sub-tasks, AND notes to any content project

Track everything in your life - tasks, notes, projects, and goals

GTD®-style processing dashboard

P.A.R.A. organization dashboard

Tutorials and Documentation

Access to an exclusive community where you can get support and exchange tips with other creators

30-day money-back guarantee
Frequently Asked Questions: