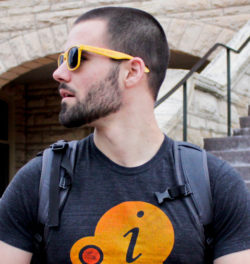 I'm an author, YouTuber, and speaker who is passionate about helping students succeed. Most of my work today is done at College Info Geek – a site I created in 2010 in order to share my experiments in becoming a more effective student.
Today, College Info Geek is one of the world's largest and best-loved resources for students, and includes a blog, podcast, and a YouTube channel with over 1 million subscribers.
10 Steps to Earning Awesome Grades
Over 200,000 downloads and 700 five-star reviews on Amazon
Published in January 2015, my first book helps guide students through the process of studying more productivity and boosting their grades – while simultaneously cutting down on their study time.
A short, punchy read, it combines my personal experience as both a student and entrepreneur with data-backed scientific evidence. Digital editions are also available for free at College Info Geek.
My Productivity Essentials Course
In January 2019, I launched my first full-fledged course – Productivity Essentials: Create a Custom System That Works. 
It's a complete guide to creating a productivity system – the combination of a task manager, calendar, file & folder organization method (both digital and physical), note-taking system, and more.
The point of the course: Never let anything slip through the cracks. Once you've gone through the course and set up your system, you'll always be on top of everything in your life.
Click the link below to get a 2-month free trial on Skillshare, which will allow you to take the course for free!
The College Info Geek Podcast
The College Info Geek Podcast is a show dedicated to helping students learn and improve in all areas of life. Episode topics run the gamut from study tips, to sleep science, to internship and career preparation.
I'm joined on current episodes by my friend Martin Boehme, though I've also interviewed lots of authors, scientists, entrepreneurs, and other interesting people – including Gary Vaynerchuk, Cal Newport, and Gretchen Rubin.
Speaking
Keynotes & Workshops
Looking for an engaging, knowledgable, fiery-eyed speaker for your next event? I'd love to be your guy.
Talking face-to-face with audiences full of ambitious people about learning, productivity, and career growth is something I love to do, and I do it well. I've spoken at universities and events all over the U.S., and I'm excited to talk with you about joining your event as well.
Please note that I can only shoot fire out of my eyes on Tuesdays.
"Thomas spoke to honors students on personal branding and blew everyone away. Pulling from his personal experience and knowledge he imparted to students how they can differentiate themselves both on a professional and personal level. The students got a lot out of it and it greatly inspired them." – Erik Sandhal, ISU Honors Program Event Coordinator

"I've known Thomas for several years and have seen firsthand his drive and passion for helping college students! He not only knows his stuff but is living it." – Grant Baldwin, Professional Youth Speaker
Contact Me
Alternatives to Smoke Signals
Hey there – thanks for visiting! I'm stoked that you'd like to get in touch with me.
However, because of my commitment to spending the majority of my time working deeply, and because of the volume of email I already receive, email isn't the best way to contact me if you have a question or are reaching out for something that isn't business-related.
Here are a couple of better options:
If you're reaching out to talk about speaking, business, or something media-related, you can use this form and I'll get back to you as soon as I can.