One of my most-used areas in my Notion workspace is my personal dashboard. It's a fairly simple page that does three important things. It:
Works as a "home base" where I can jump to my tasks, notes, projects, wiki pages, etc.
Gives me quick access to my daily tasks board, which I use to plan my day
Makes my Notion sidebar way more useful.
In this tutorial, you'll learn how to create your own personal dashboard. I've also included a free template that you can add to your Notion workspace below.
Watch the video tutorial above to see a step-by-step guide for building a personal dashboard. Alternatively, keep reading to see some examples and dashboard features you can use.
Note: Building a personal dashboard is also the main example project in my free beginner's series, Notion Fundamentals. If you want to learn all the basics of Notion, check it out.
A Look at My Notion Dashboard
A personal dashboard is a very, well, personal thing. The only design philosophy is that it should give you quick, convenient access to the parts of your workspace that you use most often.
Here's a look at my own dashboard:
I use a very page link-heavy design with my dashboard. It exists as a jumping-off point – it's like a train station that can take me to lots of different destinations.
Note how the use of Link to Page blocks (rather than page Mentions) causes the links to show up in the sidebar, nested underneath my Dashboard alongside the pages that are actually contained inside it: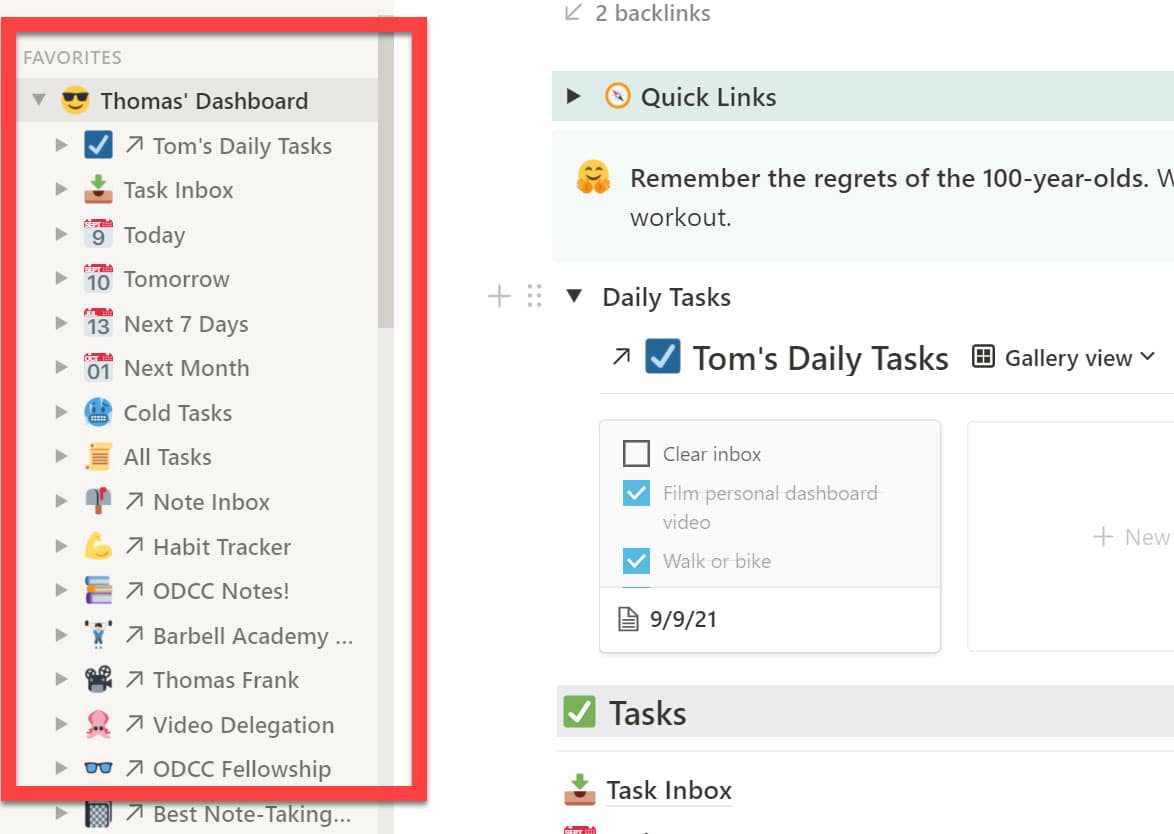 This is a very powerful Notion feature. It allows you to simply Favorite your dashboard, then toggle it open to access other pages (rather than crowding your Favorites bar with tons of pages directly).
Free Dashboard Template
In the video above, we go step-by-step to create a slightly more advanced dashboard: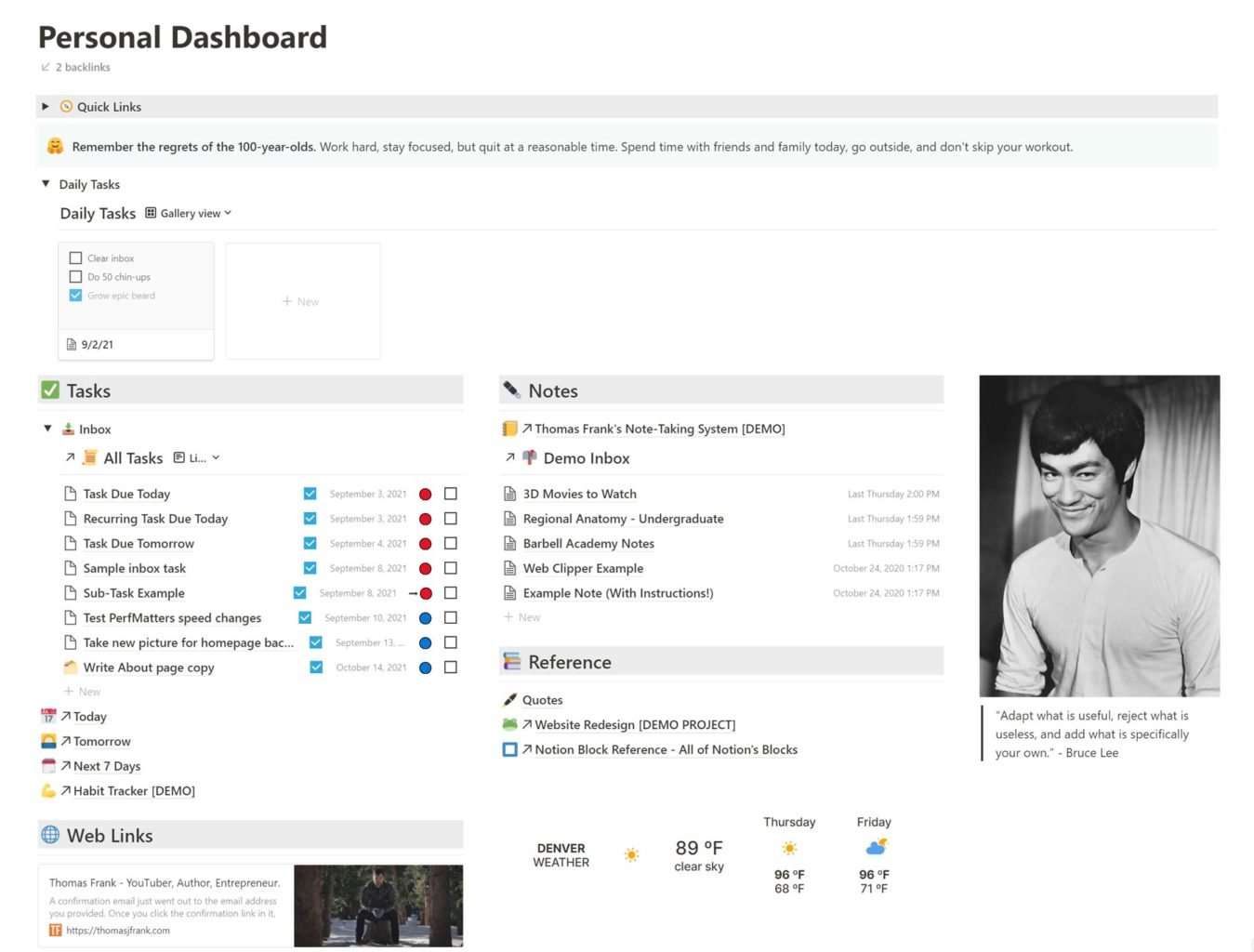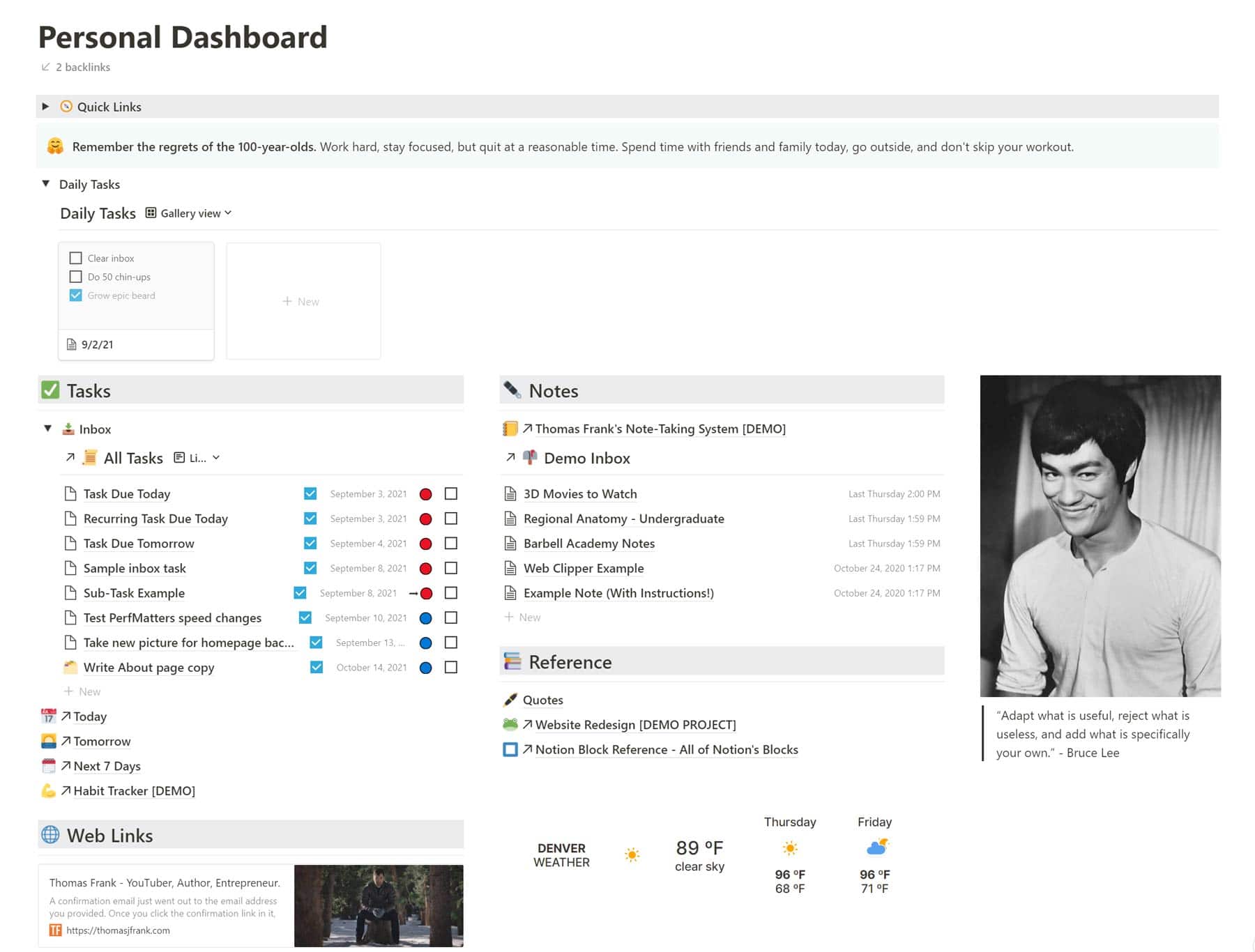 In addition to page links, this dashboard also contains some linked databases, giving you on-page access to both a task inbox and note inbox.
Many people like to be able to work directly from their dashboards; this example build allows that.
I've turned this example into a free template you can duplicate into your own workspace. Keep in mind that the template really just gets you the page layout – since this is a personal dashboard, you'll want to replace the example links with your own.
If you'd like to also subscribe to my Notion Tips email list and be the first to know when I release new tutorials and templates, enter your email below. You'll be redirected to the template right afterward, and I'll also email you a link to all my free templates.
Alternatively, use the second link to jump directly the template without subscribing!
—
Here are the other templates that I used to build the dashboard (these are all free):
Finally, if you'd like to add your own cool weather widget like the one I have in the template, check out Indify. They offer several other free Notion widgets as well.
If you'd like some more personal dashboard inspiration, I'll recommend the Notion subreddit – people are always sharing their own dashboards there!