Ultimate Tasks and Projects Template for Notion
If you want to seamlessly manage both daily tasks and large projects in Notion, this template is for you.
With a bit of work, Notion can be a capable task management app – and this template does the heavy lifting for you.
Quickly add tasks to the Inbox, manage your day or week with the Today and Next 7 Days views, add sub-tasks and recurring tasks, and even run huge projects with Trello-style board views.
Want a full productivity system?: Check out my all-in-one productivity template, Ultimate Brain. You can still get Ultimate Tasks at the bottom of this page, but if you want a complete productivity system (Tasks, Notes, Projects, and Goals), I highly recommend checking out Ultimate Brain.
Black Friday Deal: Right now you can get Ultimate Brain for a full 50% off using code BLACKFRIDAY23.
Recommended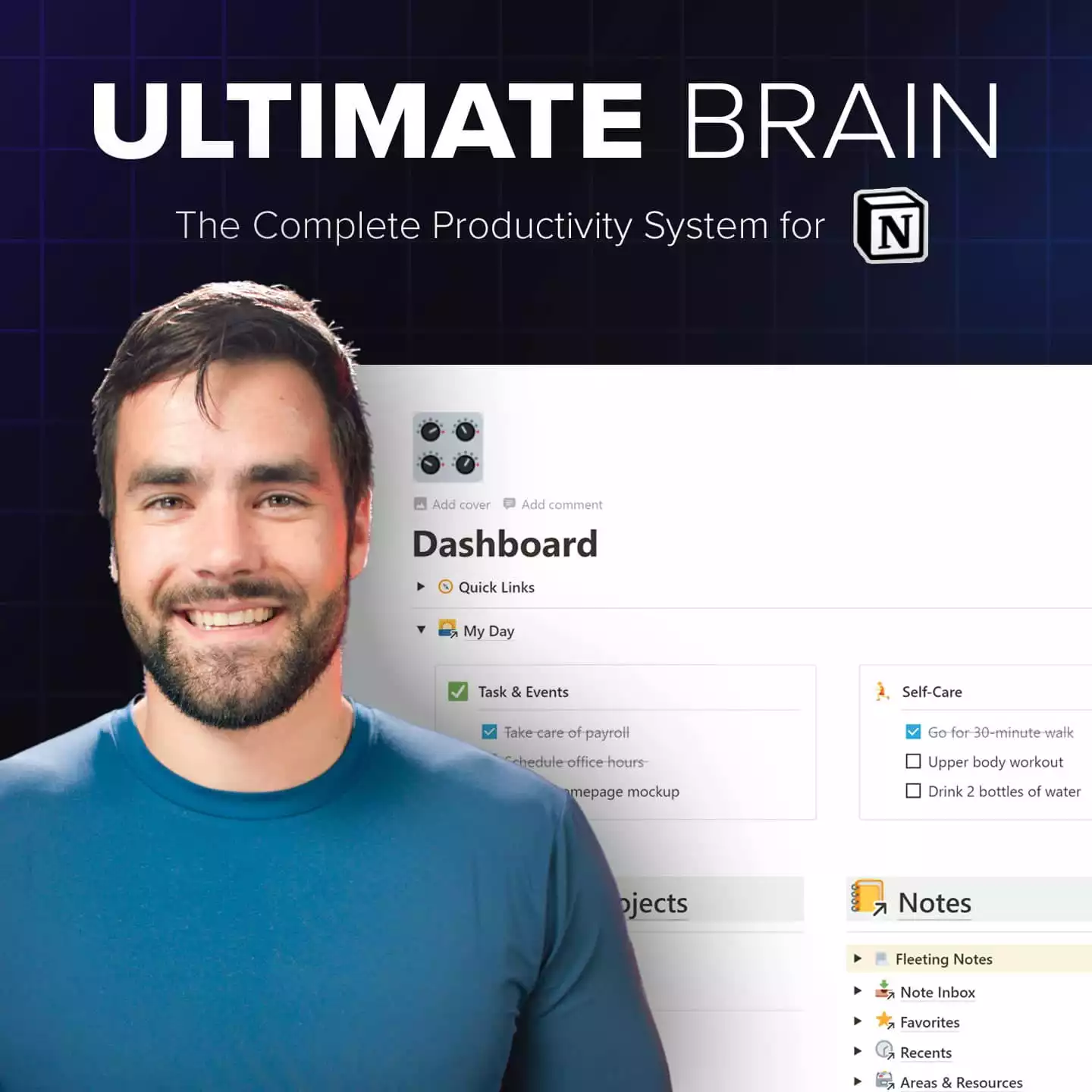 Want to Switch to Notion from Todoist, Asana, or Any Other Task App?
For years, I feel like I've been juggling task management apps. I used Asana to manage my 7-person company and 2 million-subscriber YouTube channel, while keeping my personal tasks in Todoist… it was all a bit scattered, and I really wanted a centralized place where I could manage everything.
As a Notion user, I also wanted my tasks and projects to be able to seamlessly connect to my notes, my company wiki and its SOP's (Standard Operating Procedures), and more.
Clearly, I needed to move my task management into Notion. And after months of experimentation and battle-testing, I've finally accomplished that with my Ultimate Tasks template for Notion.
All Your Tasks and Projects in One Place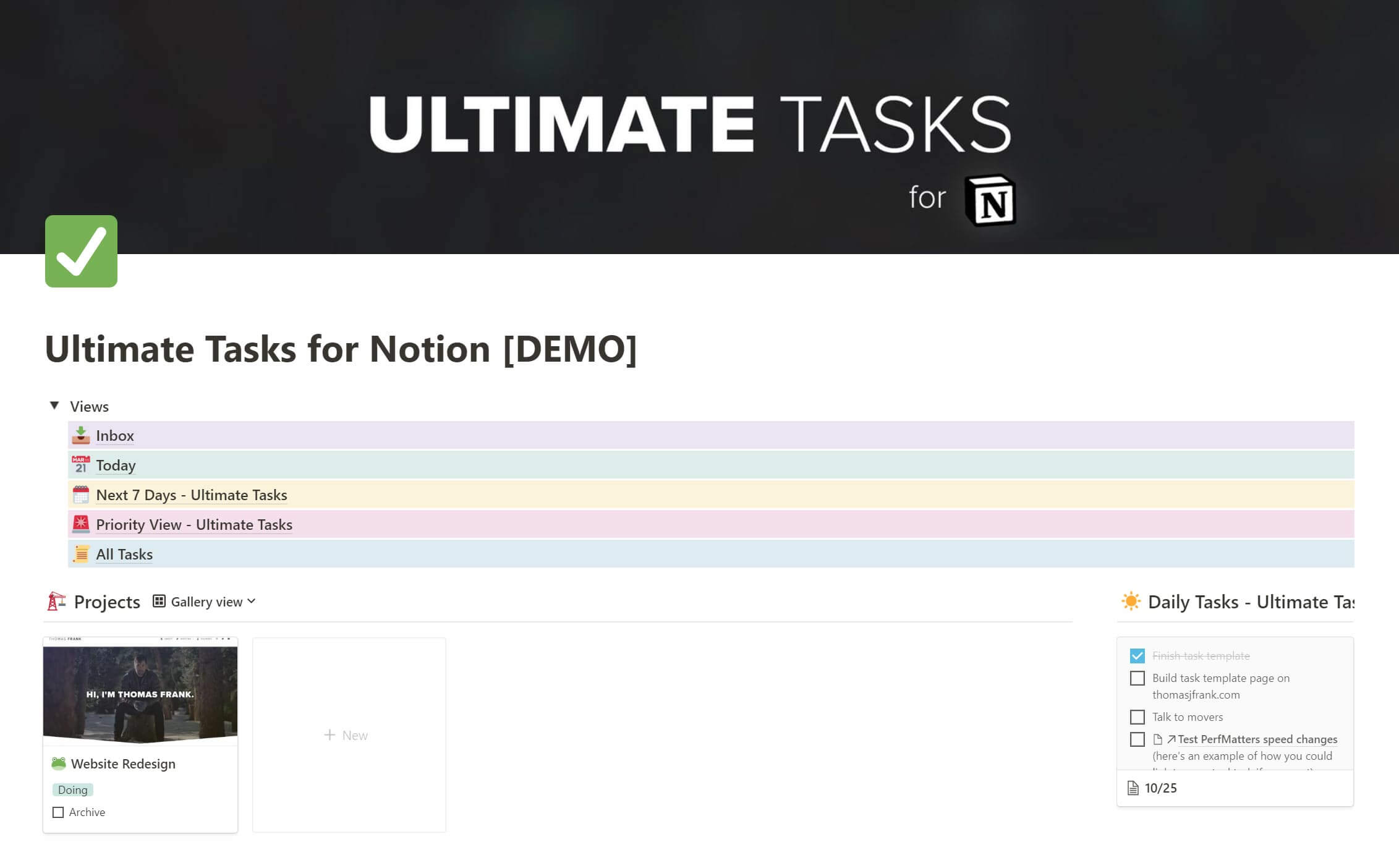 The Ultimate Tasks template dashboard gives you access to all the views you'd expect in a task management app:
Each of these views is easily accessible from the Notion sidebar. Personally, I also add my most frequently-used ones to my Favorites bar for even quicker access.
You'll also find a table for large projects. This table contains a powerful template; create a new project with it, and you'll find a task board inside it that displays any task associated with that project.
Finally, you'll find a board on most views called Daily Tasks. With this board, you can easily create daily "scratchpad lists" of tasks. Use this to jot down small tasks that will be done quickly, or plan out your whole day if you like.
Use the Today View to Plan Your Day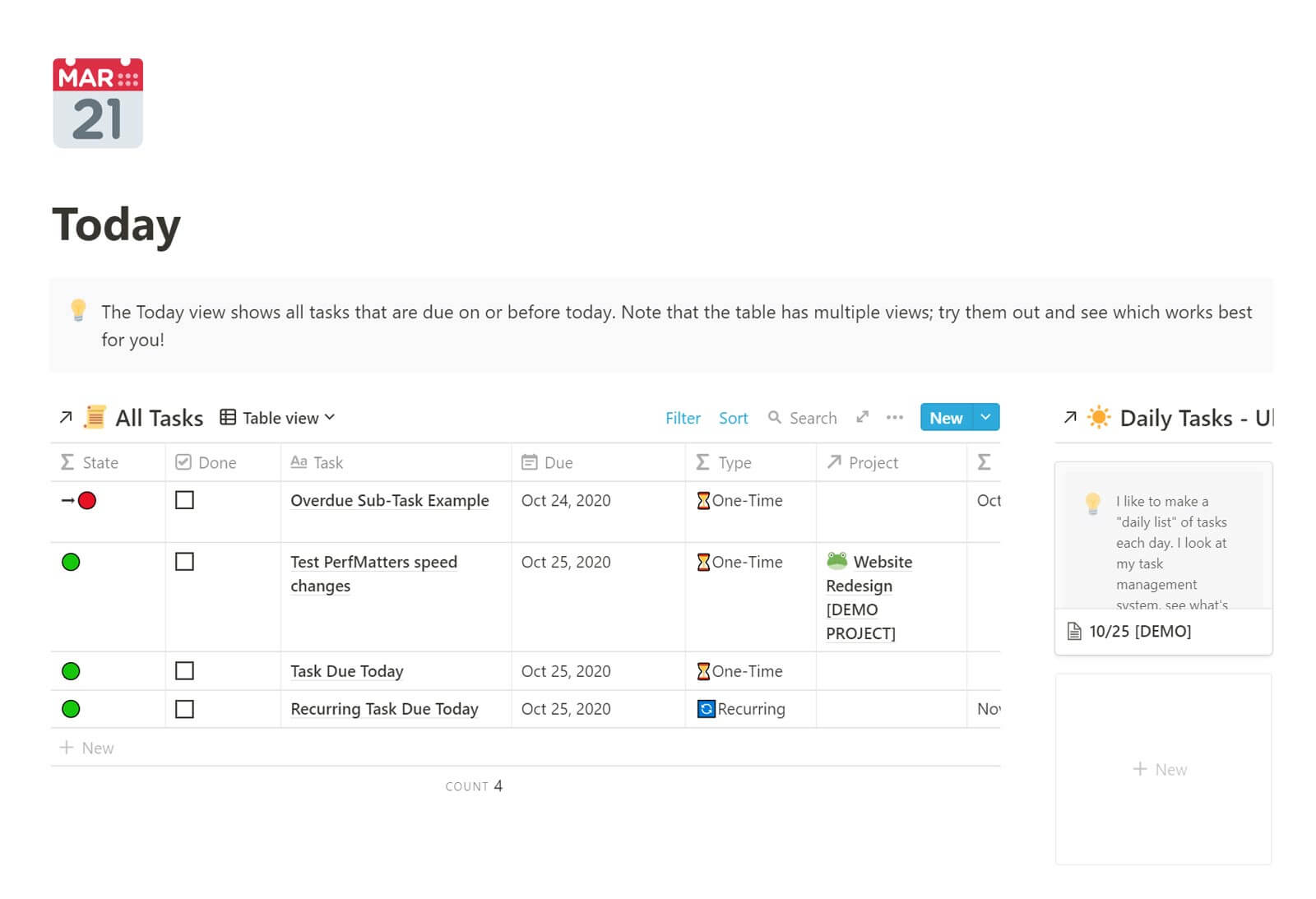 The Today view shows you all tasks across your system that are due today (or overdue). This is a great place to plan your day, or to add new tasks that need to be done today.
We take advantage of one of Notion's most powerful database features here: When you have a database view with filters, new tasks (technically, new pages) created in that view automatically take on whatever properties are needed to meet those filter rules.
Since the Today View filters tasks to only show those due on or before today, any new tasks created here will auto-magically have today set as their due date. This makes the Today View a great place to quickly add tasks that are due today without any fuss!
Manage Large Projects in Notion Easily
When you're working on a large project, you need a central place to see every task related to it. That's where the Project board comes in. This board contains a powerful project template; create a new row using it, and you'll get a page for that project with its own task board.
Trello-style kanban boards are perfect for large projects, and this template includes two of them:
State view – the classic "To Do, Doing, Done" board setup, which allows you to drag cards around as you work on them
Tag view – create custom topic-based rows to organize larger, more complex projects
I used this template to design and build the website you're looking at right now; my Tag View for this project contained columns like Design, Speed, Security, etc.
Recurring Tasks, Subtasks, and More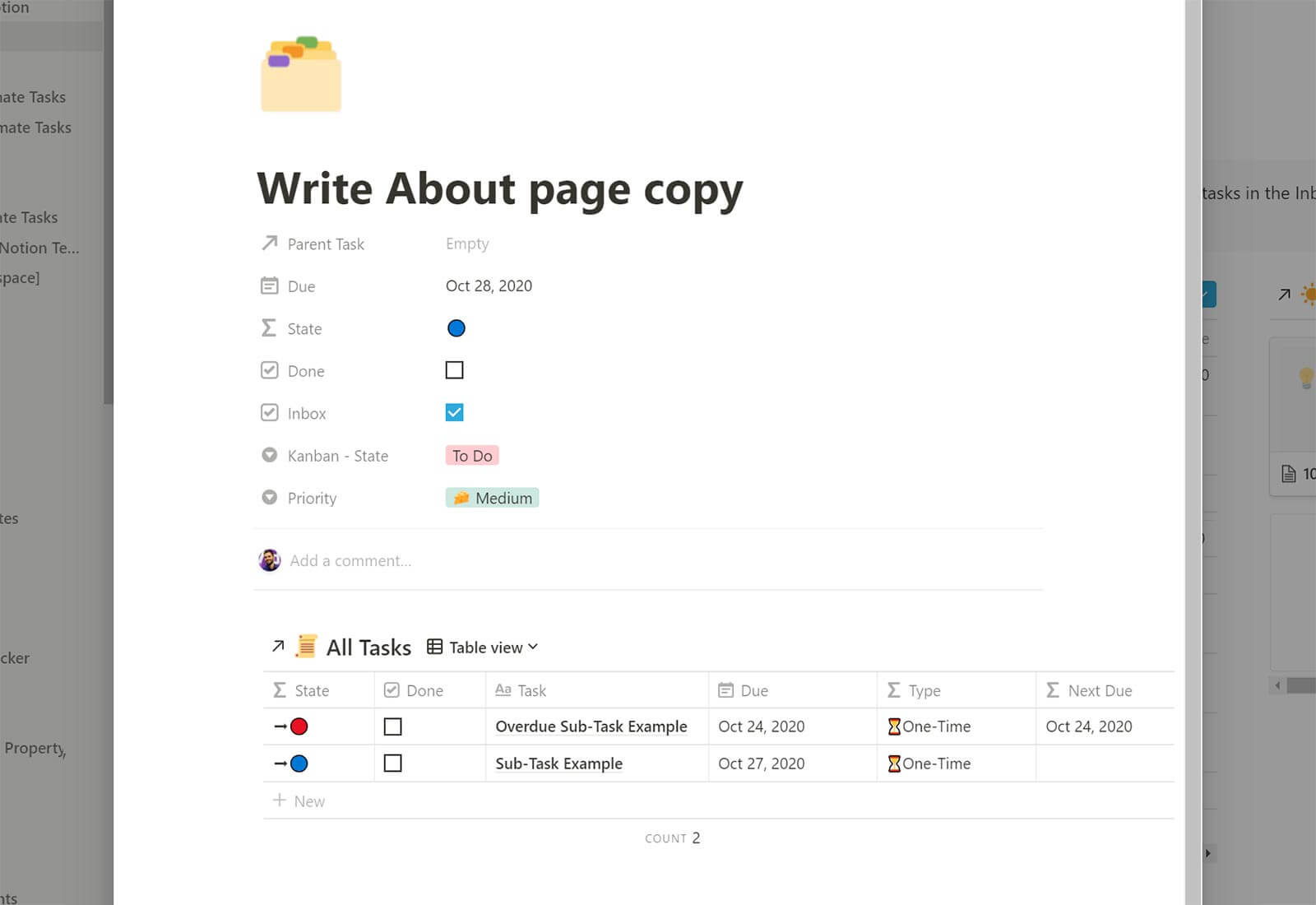 I've been using top-tier task management apps for years, so I couldn't just move my entire life into Notion without some of the quality-of-life features I've come to expect.
Fittingly, the Ultimate Tasks template includes the ability to create:
Recurring Tasks (see how)
Subtasks (every view contains a page template to add them)
Task priorities
Get This Template for Free
Like nearly all of my Notion templates, this task and project manager template is 100% free, and I don't require your email for it.
However, if you want to get the most out of Notion, I highly recommend joining my Notion Tips newsletter by entering your email below.
Afterwards, you'll be immediately sent to the template, and I'll also email you a link to all of my other templates (note-taking, habit tracker, etc) as well. As a bonus, I'll send you a list containing every tool I use to run my business as well!
As a Notion tips subscriber, you'll be the first to know when I release new tutorials and templates. It's 100% free, and you can easily unsubscribe at any time.