The Ultimate Note-Taking Template for Notion
This template makes it easy to use Notion as your main note-taking system.
It's build with a handy Inbox for quickly capturing notes on the go, smart sorting features like Sub-Notebooks and Statuses, and (unlike other systems I've seen) allows you to access all your Notebooks from the Notion sidebar.
Want to Switch to Notion from Evernote, OneNote, or Bear?
I spent 10 years taking notes in Evernote. When I started using Notion in 2018 for project management, I had a hard time adapting it for my note-taking needs – so I built this template.
The result of months of experimentation, my note-taking template is the closest you can get to replicating the best features from note-taking apps like Evernote, OneNote, and Bear – while still retaining the tools that make Notion so powerful. And yes, it's free.
Here's a look at some of the features you'll find in this template:
Dashboard with Inbox and Notebook List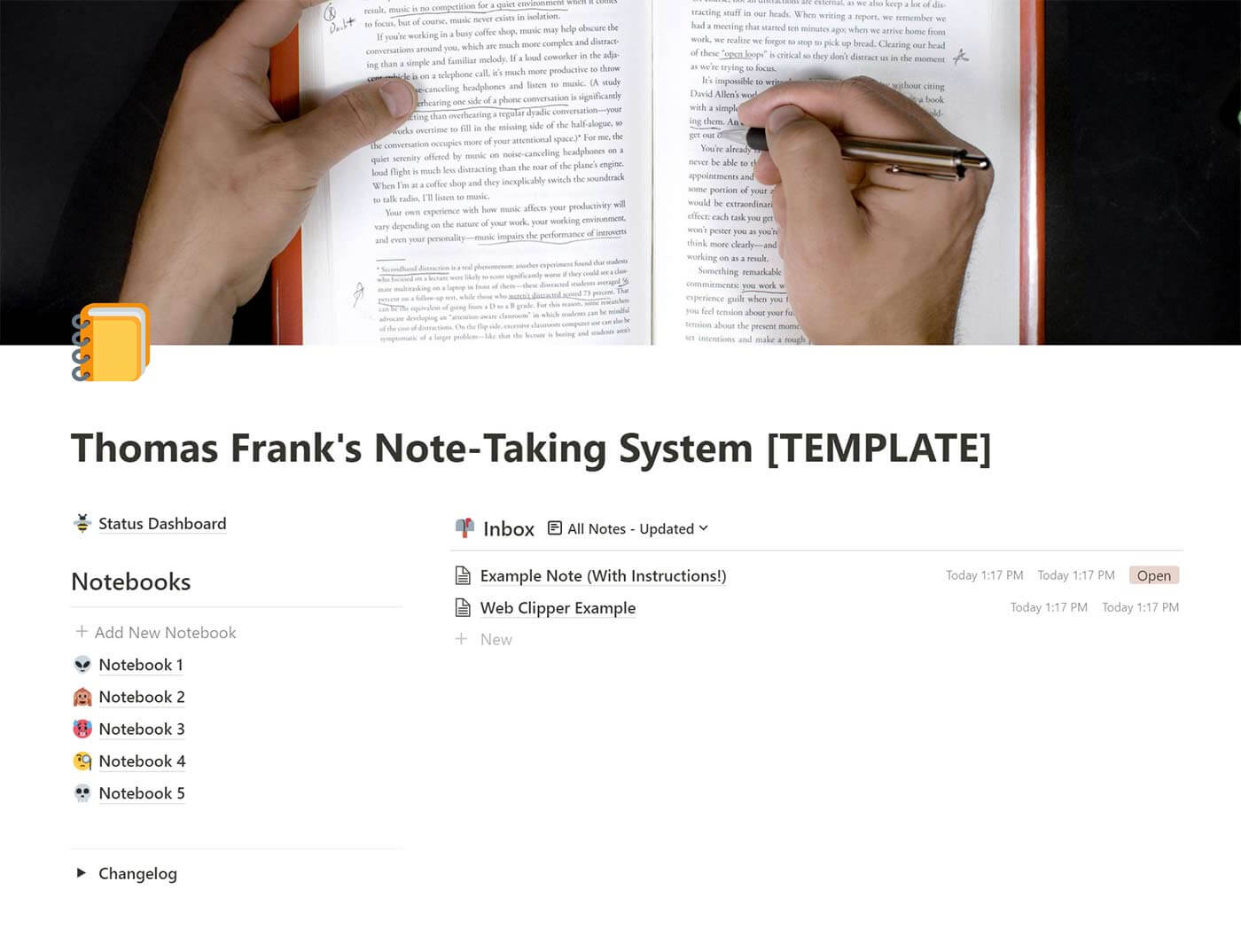 The Dashboard includes an inline Inbox table, which allows you to quickly capture new notes when you're on the go. I even have an iOS Shortcut widget on my phone's home screen that launches right to the Inbox for perfect quick-capture.
To the left, you'll find a list of each top-level Notebook in your system. If you need to create another, use the handy template block.
When you're ready to process your Inbox notes, they can easily be dragged into the correct notebooks: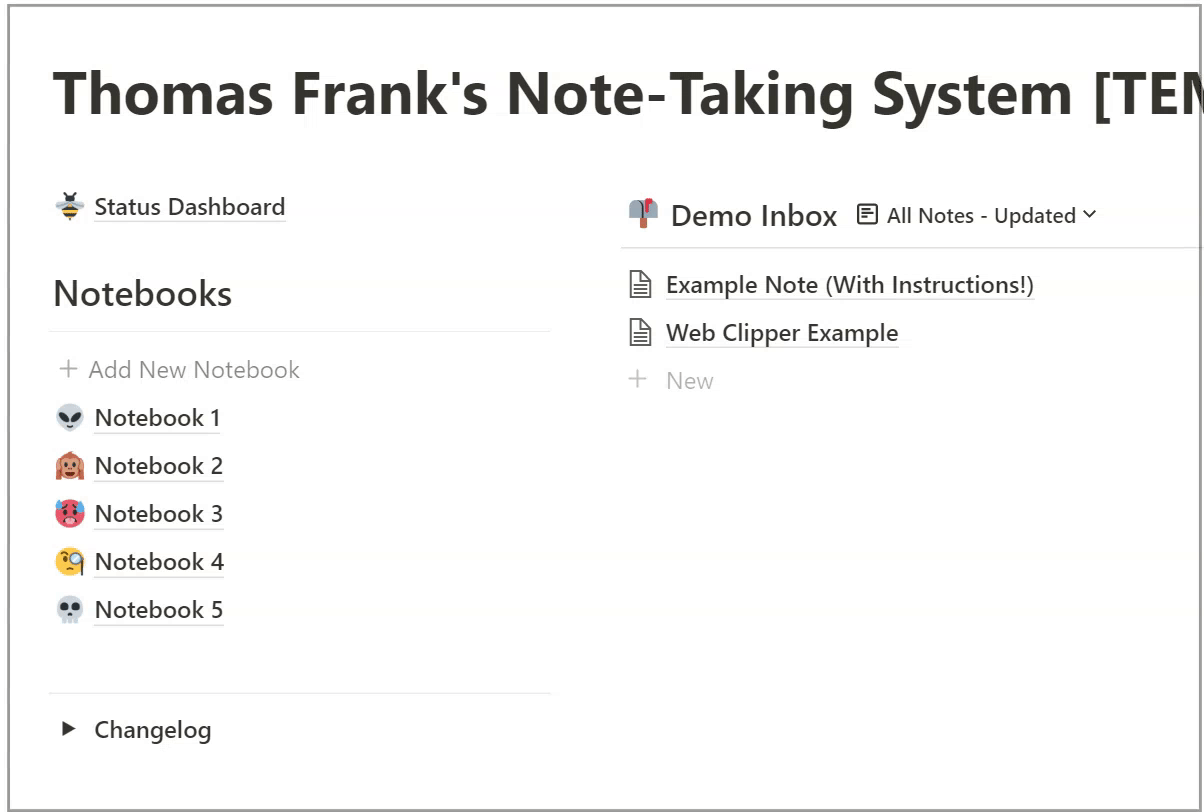 While you'll see the use of "master" databases in some of my other templates, I've found that using one doesn't work well for a note-taking system with Notion's current limitations.
There's no easy way to drag-and-drop your notes from the Inbox to another notebook, and accessing sub-notebooks from the sidebar is impossible without manually creating a page of links to them.
As Notion improves, I'll be looking to adapt this template to use a master database. Sign up for my Notion newsletter below to get updates!
Sub-Notebooks are Accessible from the Sidebar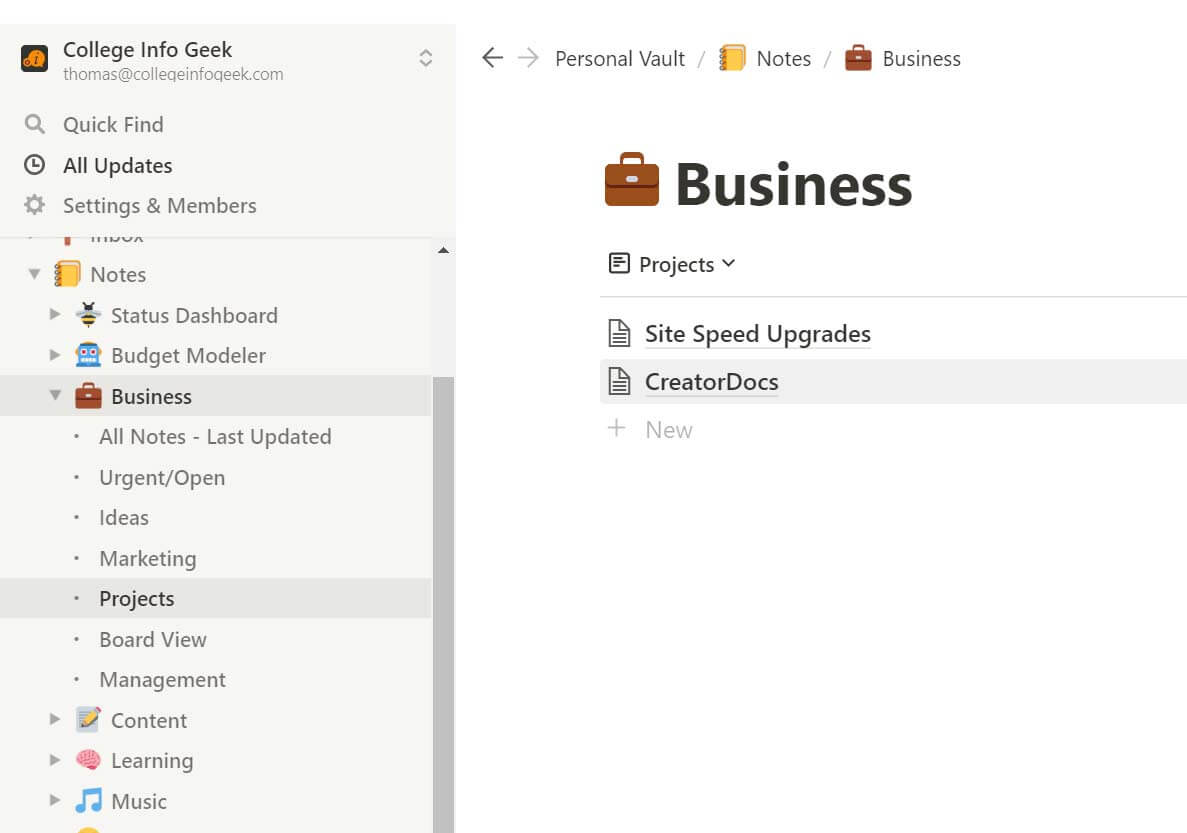 Each notebook includes filtered views for "Categories", which function as sub-notebooks.
Designing the system this way allows sub-notebooks to be accessed from the Notion sidebar, while still offering you all of Notion's database features – sorting, filtering, etc.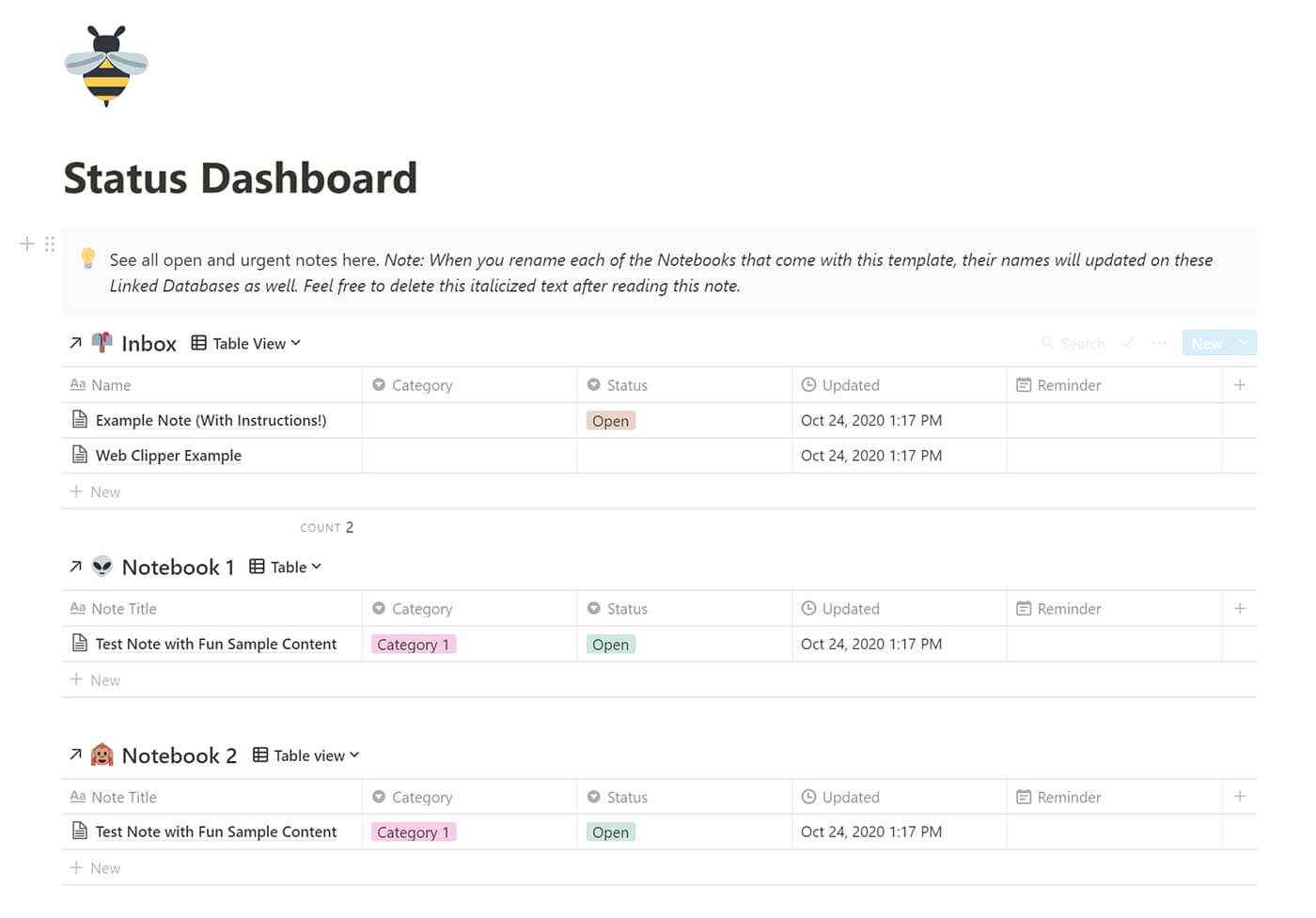 Some notes in your system are important and relevant to your life right now. Some are urgent. Others can be safely archived; they're not important now, but you should be able to access them at any time.
The Status Dashboard makes it edit the status of your Open notes. Each new note is set to Open by default, and the Status Dashboard will show you any note that is Open, Urgent, or that has not been put into a Category (i.e. sub-notebook).
This gives you a convenient, centralized place to process your notes each week.
If a note is no longer relevant, set it to Archived (or delete it). Set Categories so your notes are perfectly organized. You can even set a Reminder so you'll get notified about a note at a later date.
Get This Template for Free
Like nearly all of my Notion templates, this note-taking system template is 100% free.
However, I'd love it if you entered your email in the field below and joined my Notion Tips email list (yep, it's also free). Not only will I let you know when I release new templates, but I'll also keep you up to date on the Notion videos I create every week.
If you want to learn how to get the most out of Notion, I believe you'll really enjoy this list. And it's easy to unsubscribe at any time.