PARA Method Template for Notion
Build your second brain in Notion with this free PARA Method template.
Tiago Forte's mega-popular Building a Second Brain course and book teaches you how to organize your life in a digital "second brain" using four lists: Projects, Areas, Resources, and Archives.
This free template brings those four lists seamlessly into your Notion workspace.
Note: This PARA template gives you a simple, minimalist structure to build upon. If you want a complete, done-for-you second brain inside of Notion, check out Ultimate Brain instead.
Ultimate Brain contains the exact same PARA organization system as this template, but adds advanced task management features, note-taking features, goal-tracking, a My Day dashboard, and much more.
Black Friday Deal: Right now you can get Ultimate Brain for a full 50% off using code BLACKFRIDAY23.
Recommended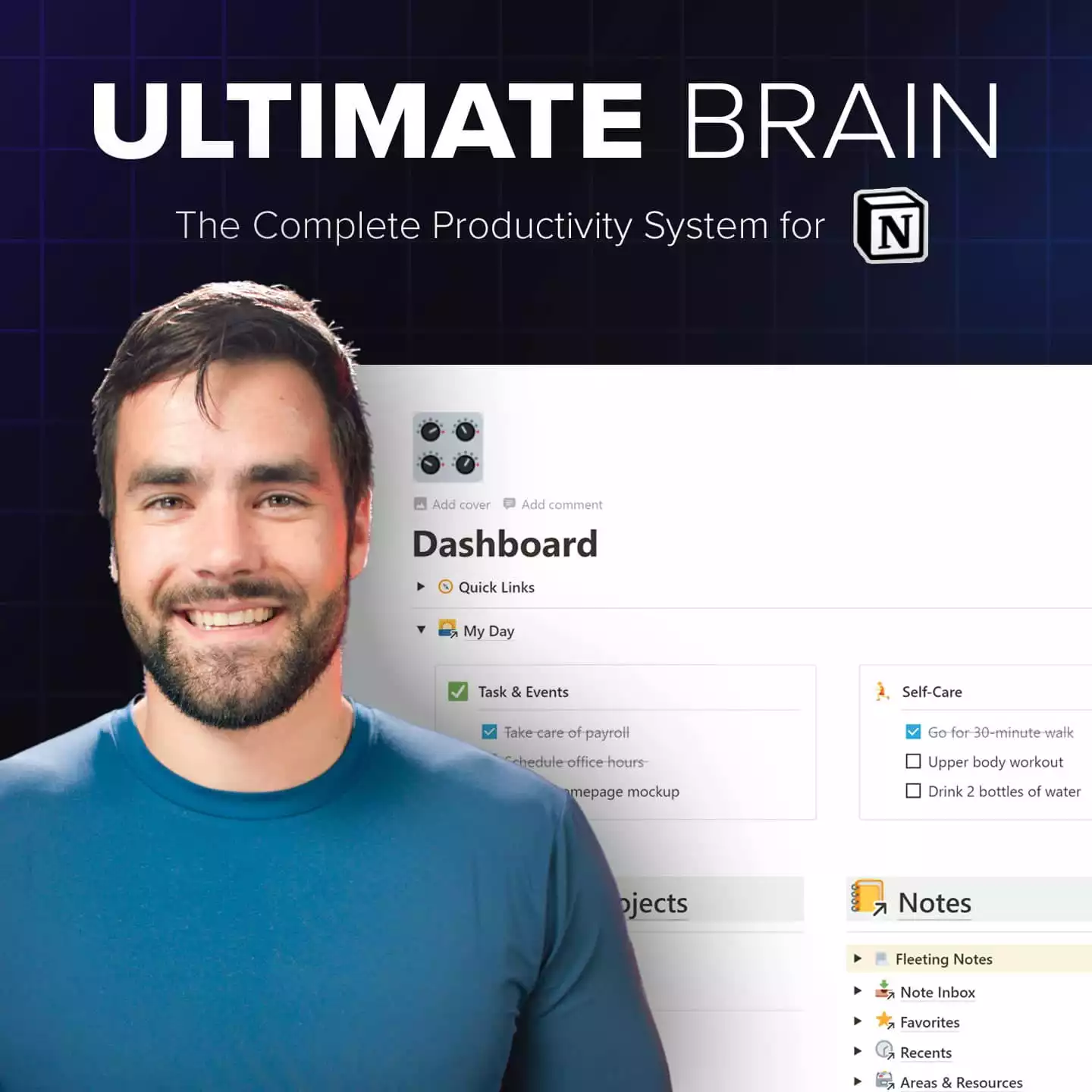 Tiago Forte's PARA Method, Perfected for Notion
Tiago Forte's PARA Method is designed to work within any tool. It comprises four folders:
Projects
Areas
Resources
Archives
Each folder holds information with a different level of actionability.
But we can make PARA even more flexible and powerful within Notion.
Since Notion allows us to create interconnected databases, we can create a more useful PARA structure.
As you can see from this diagram, within Notion our Areas (what I call "life buckets") can contain both Projects and Resources.
This makes more sense, doesn't it? Both the projects you take on and the interests you have usually fit under a broad Area of your life.
Get This Template for Free
Like nearly all of my Notion templates, this PARA method template is 100% free.
However, I'd love it if you entered your email in the field below and joined my Notion Tips email list (yep, it's also free). Not only will I let you know when I release new templates, but I'll also keep you up to date on the Notion videos I create every week.
If you want to learn how to get the most out of Notion, I believe you'll really enjoy this list. And it's easy to unsubscribe at any time.