Video Project Tracker Template for Notion
If you're a YouTuber, video editor, or video producer, this Notion template is for you.
Use the main table to track and store all your video projects. See the status of in-progress projects, and easily refer back to completed ones.
Each row uses a powerful template with editing and publishing checklists, pages for research and video scripts, and a hyper-advanced B-roll table that can massively boost your editing productivity.
New: I've massively upgraded this template and launched a premium version called Creator's Companion. It features support for multiple channels and blogs, idea tracking, an SEO dashboard, and more.
You can still use this free version of the template (scroll to the bottom to get it), but if you're managing multiple channels, I recommend checking out Creator's Companion.
Recommended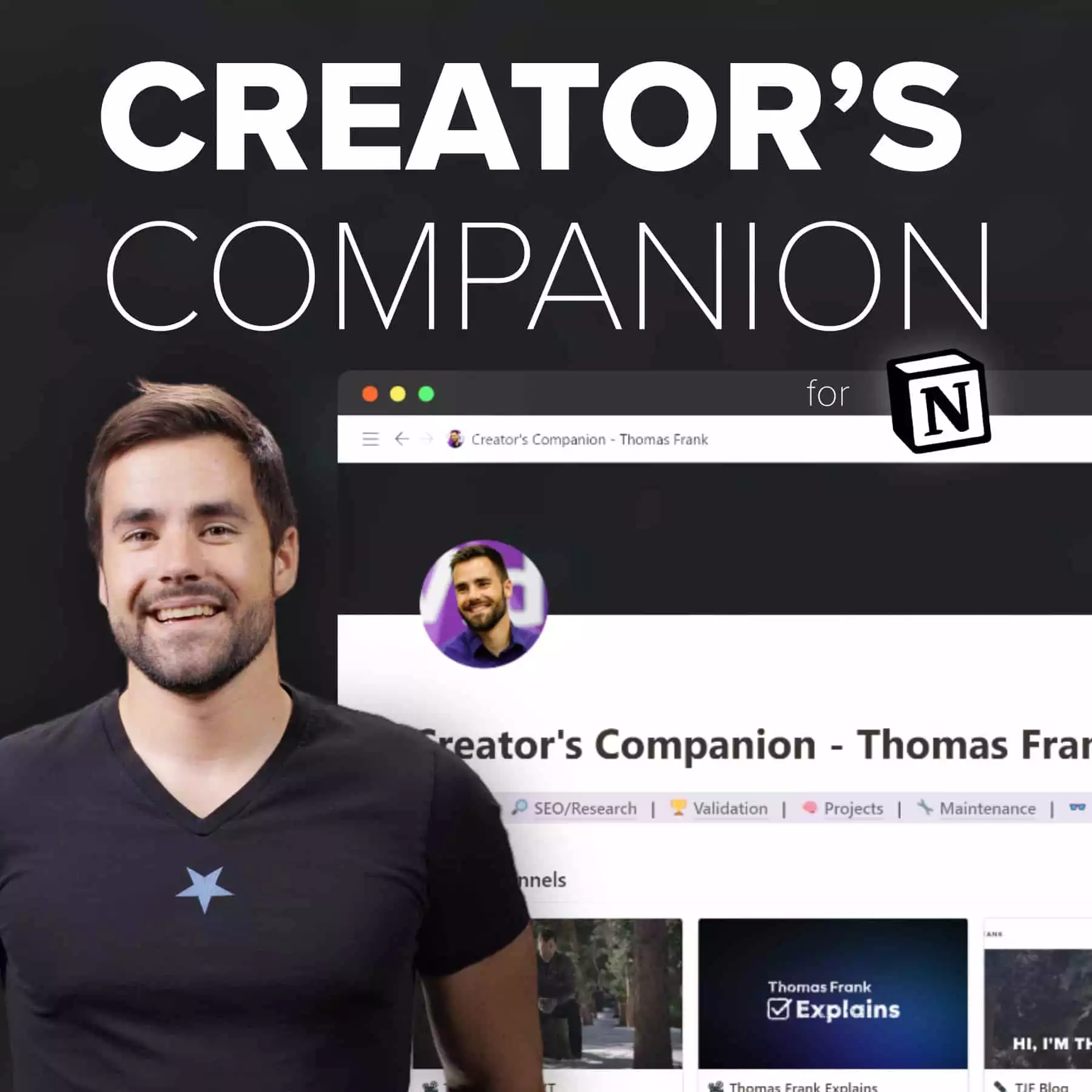 I Use This Notion Template to Run My 2 Million-Subscriber YouTube Channel
I'm a full-time YouTuber who focuses on productivity. As such, I'm always on the lookout for better tools that can help improve my production and editing process.
After testing numerous project management apps and other video tools, I eventually realized Notion was the perfect tool for the job… it just needed the right template.
This video project tracker template is the result of more than two years of true battle testing. Since starting work on this template, I've made more than 90 videos using it, and it has absolutely improved my (and my team's) process.
Here's a look at some of the features you'll find in this template:
View Critical Info for All Videos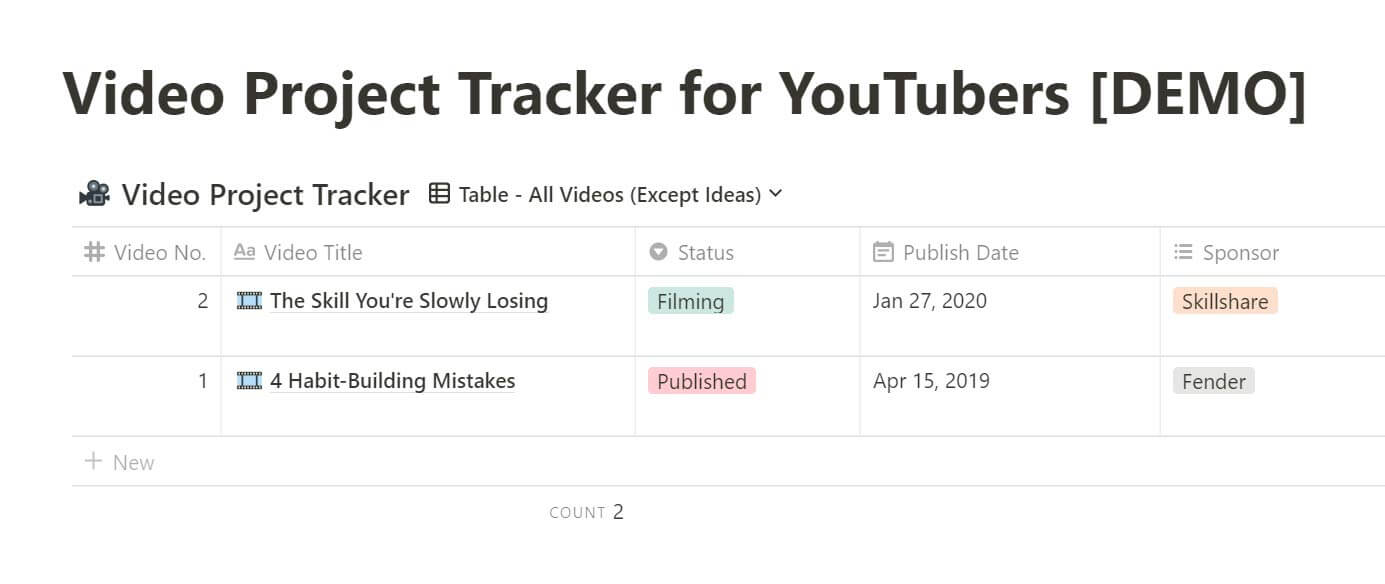 The heart of the template is this main table view, which shows each of your video projects. You can easily tag each video with useful information, such as:
When videos are in progress, you can use the Board view to group projects by status (Writing, Editing, etc), or switch to the Calendar view to see your editorial calendar.
Once a video is finished, its record in this table becomes an immensely useful archive. Need to reference an old script or recall who sponsored a certain video? Easily look it up in the table.
Forgot which video you shot that Empire State Building b-roll for? Use Notion's search function and you'll find it in the shot list.
The Project Template: Everything in One Place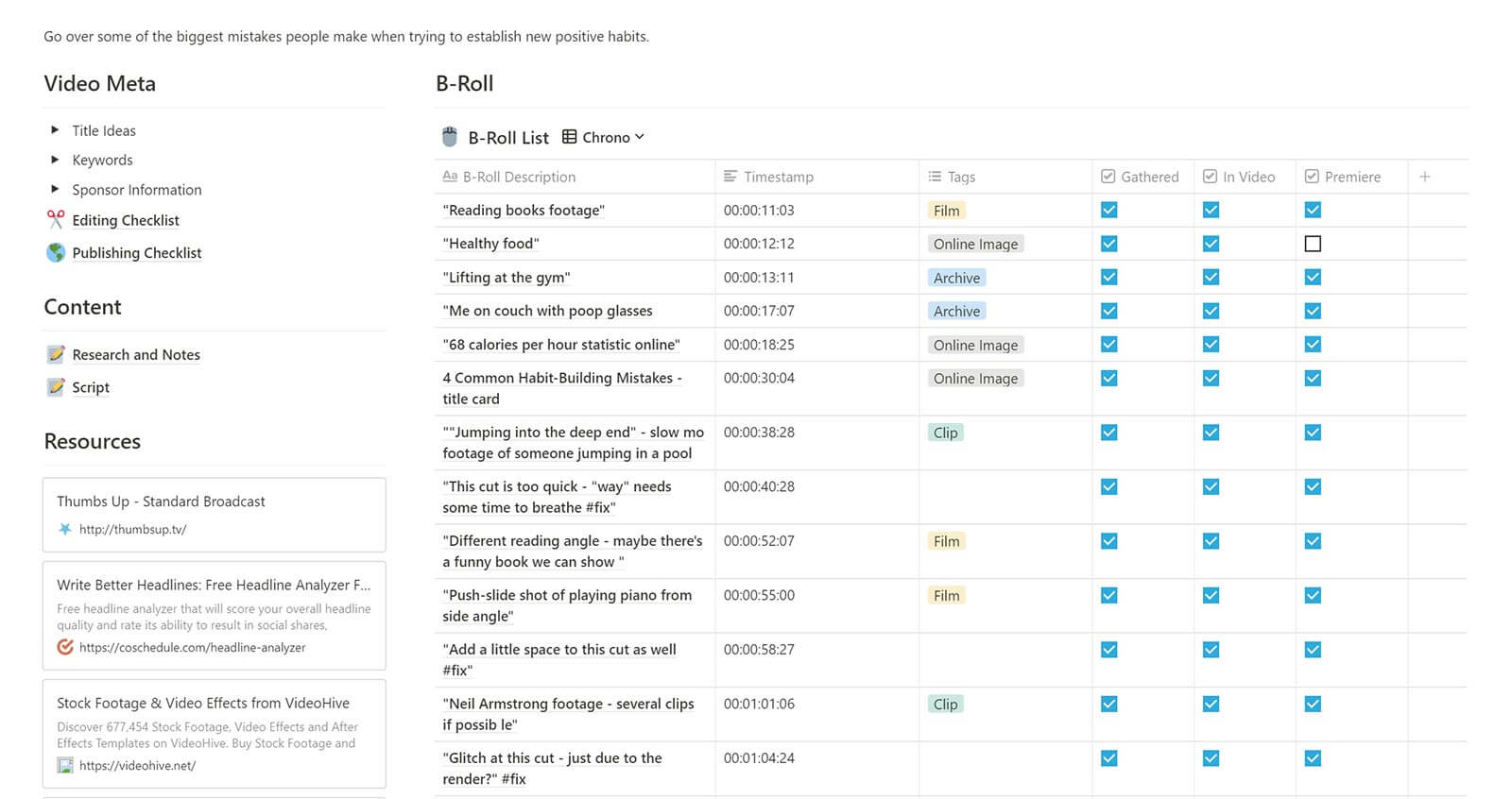 In the past, I'd use a ton of different apps while creating a video – I'd research in Evernote, write my scripts in Google Docs, manage editing checklists in Todoist, etc.
This is actually what got me into Notion in the first place; I wanted a centralized place to manage all of these different things. And this project template gives me exactly that.
After creating a new row, you can choose to populate it with the project template. This will give you Research and Scripting areas, checklists for editing and publishing, a helpful resources section (I include links to a thumbnail size checker, a headline analyzer, and more), and toggles for brainstorming titles and target keywords.
However, the most powerful feature of the project template is the B-roll list…
Make Frame.io and Notion Work Together
If you're an editor, you know that adding B-roll (additional shots, on-screen text, images, animations) is one of the most time-consuming parts of the editing process.
Over 6 years of editing videos, I've come up with a lot of tricks for speeding up that process, and two of the biggest ones are possible with this Notion template.
First, the B-roll table includes several views that are each tailored to a different stage of your project. Chrono view sorts b-roll items by their timestamp, allowing you to edit down the timeline.
Meanwhile, Gather view sorts by media type or action – Film, Screen Recording, Stock Video, etc. This allows you to efficiently batch your b-roll gathering. If you were to try to gather b-roll based on its chronological order, you'd be running back and forth between tasks all day.
Secondly, Notion databases can import CSV files – and video collaboration tools like Frame.io (full disclosure: affiliate link) can export them.
This means you (or your team) can add b-roll ideas as comments to a rough, first-pass cut, and then you can export those comments with their attached timestamps and bring them right into your Notion project.
Get This Template for Free
Like nearly all of my Notion templates, this video project tracker template is 100% free.
However, I'd love it if you entered your email in the field below and joined my Notion Tips email list (yep, it's also free). Not only will I let you know when I release new templates, but I'll also keep you up to date on the Notion videos I create every week.
If you want to learn how to get the most out of Notion, I believe you'll really enjoy this list. And it's easy to unsubscribe at any time.