Among Us Game Tracker Template for Notion
This Notion template can make you a smarter crewmate…or a sneakier imposter.
This is easily the most fun I've ever had building a template.
With it, you can track potential imposters, learn the small details of each task (and catch players in lies), and memorize each game map more quickly.
If you're playing imposter, it can help you be a better liar, too.
Want to Get Better at Among Us?
I've been playing a lot of Among Us lately, and I've learned that to be good at the game, you need to learn its maps, systems, and details quickly.
As a crewmate, knowing the details of each task can help you catch imposters faking tasks, and can also help you prove the innocence of your fellow crewmates.
As an imposter, knowing each task will help you fake them more effectively, and knowing the layout of each map in detail will help you utilize the vents (and know when not to use them).
And, of course, the better you're able to track where players have been and which ones are suspicious, the better off you'll be.
Here's how this template can help you improve in all these areas.
Track Potential Imposters and Player Locations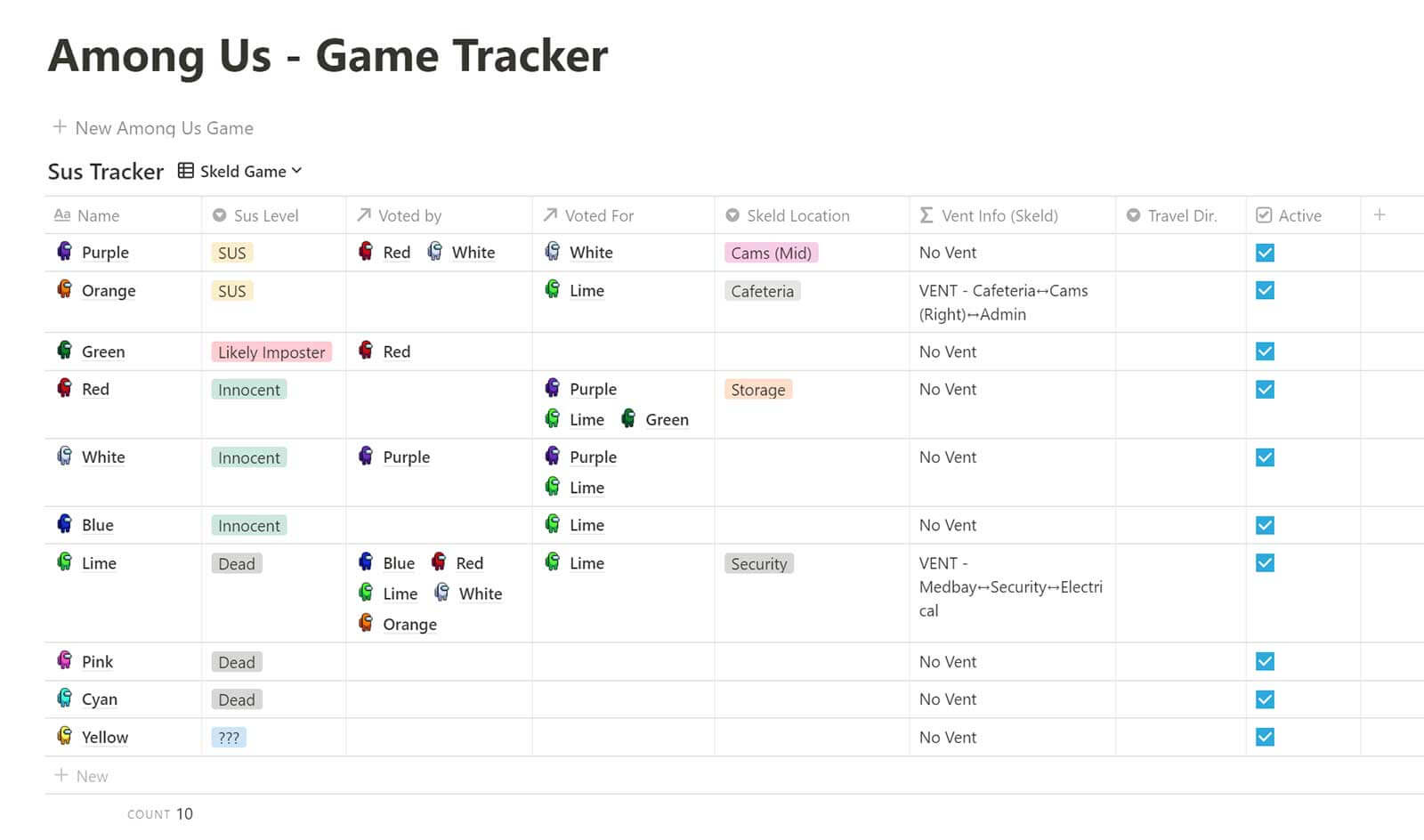 With the advanced view of the sus tracker, you can track key information about each player:
It's a bit impractical to try to track this information for every player, but I've found that filling in a few details memory right after a body is reported or meeting is called can be helpful.
If you'd like a less complicated tracker, there's also a Simple view:


In this view, you can simply drag player cards between columns as your suspicions grow.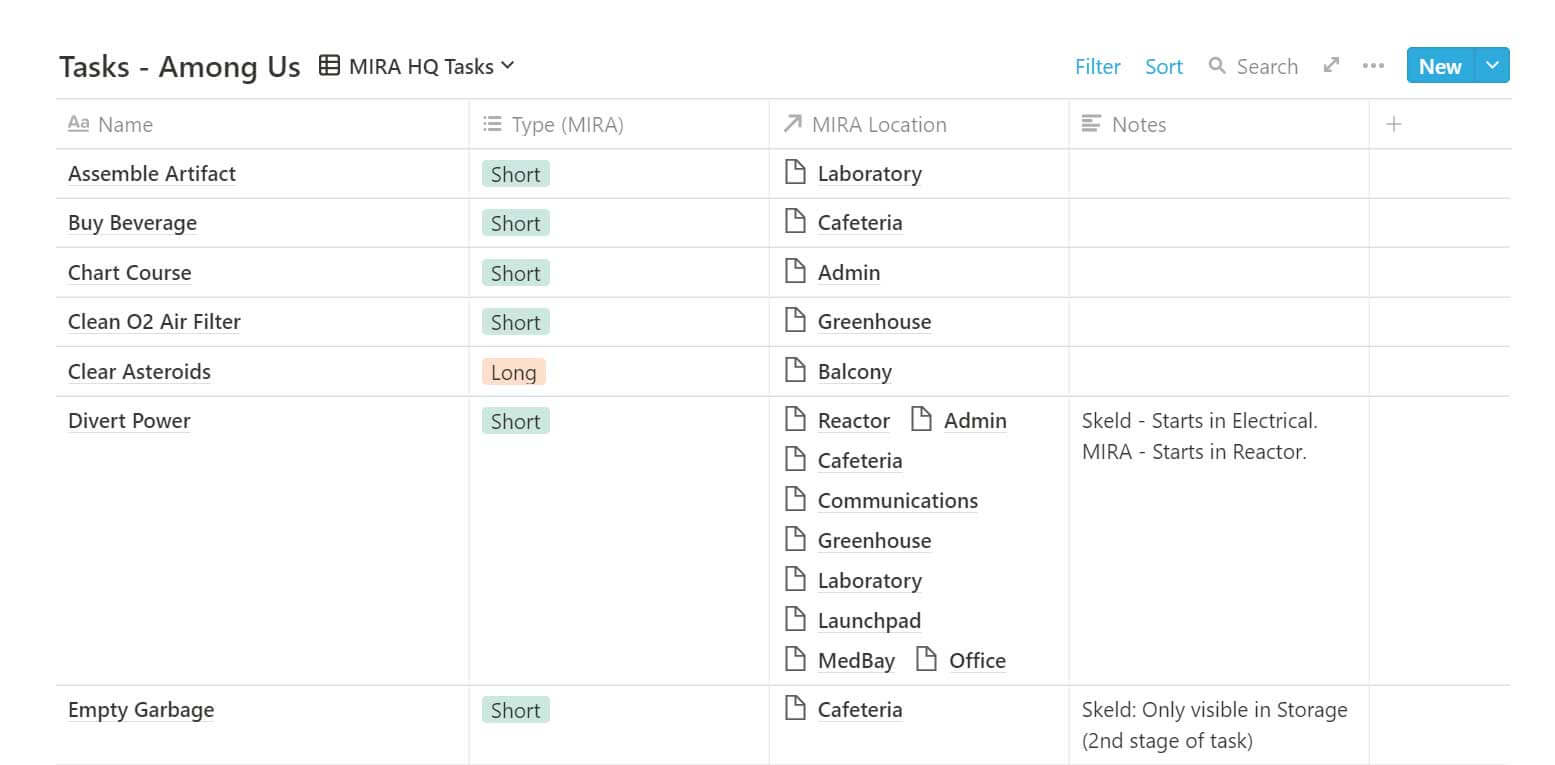 Understanding the details of each task in Among Us is one of the most powerful ways to win the game.
As a crewmate, if you know, for example, that the Fix Wires task assigns its "random" panels in a very specific order with known probabilities for each location, you'll be able to catch imposters if they fake that task incorrectly.
Of course, as imposter, having this information will also make you more adept at faking that task.
The Task Reference table lists each task in the game, with filtered views for each map. In it, you can see task locations, types (short, long, common, and visual), and notes.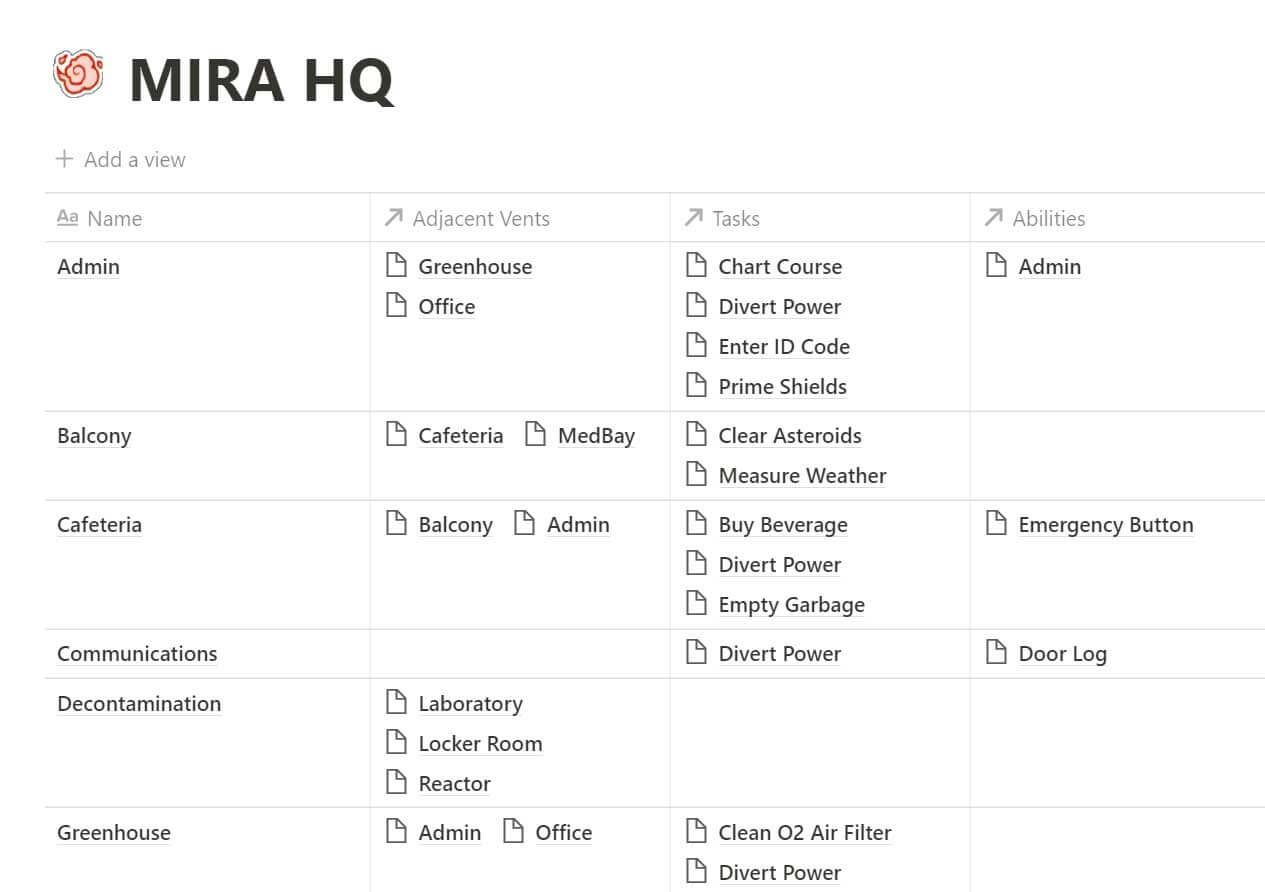 You'll also find a Location Reference database in the template with pages for each of the game's maps – The Skeld, MIRA HQ, and Polus.
This database has a relation to the Task database, meaning you can view the game's tasks by their location as well.
Additionally, you'll be able to see where the game's Special Abilities (Admin, Security, Door Log, etc.) are located, and see any vent connections for each room.
I found the experience of building this template to be quite helpful for learning the game more thoroughly – I hope you'll find using it to be helpful as well!
Have ideas for additional features? Let me know on Twitter.
Get This Template for Free
Like nearly all of my Notion templates, this Among Us game tracker template is 100% free.
However, I'd love it if you entered your email in the field below and joined my Notion Tips email list (yep, it's also free). Not only will I let you know when I release new templates, but I'll also keep you up to date on the Notion videos I create every week.
If you want to learn how to get the most out of Notion, I believe you'll really enjoy this list. And it's easy to unsubscribe at any time.